Even in Southern California, winter can be uncomfortable without a functioning heater. If you're searching for 'heater repair service near me,' you're probably a homeowner in immediate need of affordable service. At Home Comfort, we're dedicated to our customer's well-being. If you need same-day heating system repair, we're here to give it to you. 
As a family-owned and operated HVAC company, we've dedicated our skills to serving our customers for nearly ten years. Because we want customers to have the best indoor air quality, we hire staff and trained HVAC technicians who share our dedication. We set ourselves apart from other companies by offering exemplary same-day heater repair services.
Does your heater smell like burnt dust, or is it not working? Like most conveniences in our lives, we tend not to notice them until something goes awry. Your heater provides a considerable service throughout the winter, but it's rarely considered since it's behind a closed door. Because of this, heaters often run long past their need for repair, worsening the issue. 
A few clear indicators that your heater needs some TLC are:
Burning or melting smells are cause for alarm and mean it's time to call the furnace repair service. Other odd smells might indicate mold or additional issues. 
If the heater overheats part of the house but doesn't even warm another, it might not be operating at proper capacity. 
Most HVAC systems run quietly. If your heater makes your house sound haunted, it's time to call for HVAC service. 
A heater struggling to run properly will cycle more often, putting more strain on the system. 
The more often the heater cycles, the higher your utility bills, especially if the pump is drawing more power than necessary. Higher bills can be an indicator of specific issues with the unit. 
If the heater isn't functioning correctly, the air will be dry, or so humid condensation gathers on the windows.
If the unit continues to leak or leave puddles, a drain or line might be clogged. 
Call repair services immediately if your heater stops working unexpectedly or won't turn on at all.
While the above issues are significant indicators for furnace repair service, there are other reasons to call. Don't feel limited to repairs and maintenance only when something is wrong. Moving into a new home is an important time to have our local HVAC experts inspect your heating system. Perfect times to call for heating service are when:
Purchasing a new home is a wonderful experience. Calling an HVAC technician to check out your heater will ensure you can stay comfortable through the winter months without issue and provide you with peace of mind. 
The Heating System is Old
Older units require more maintenance and repair. Upgrading your heater can save money on utility bills and repair costs. 
Heater Hasn't Been Checked in a While
Occasional maintenance is key to running your heater as smoothly and efficiently as possible. Regular checks also allow you to avoid more expensive repairs later on.
Home Comfort offers emergency repair and preventative maintenance to ensure your continued quality of life. Poor air quality negatively affects your health, and that's why improving the air you breathe is one of our top priorities. 
A few signs your air quality might need some extra care and maintenance are:
Higher bills – When a heating system isn't working correctly, it drives up the bills and affects the air quality in your home.
Respiratory issues – Dirt and debris in the air irritate the delicate tissue of the lungs, causing coughing, sneezing, and wheezing.
Bugs and mice – Insects and rodents make us feel like our home is dirty. Even if that isn't the case, the pests contaminate our air if they reside in the vents.
Dirt and dust around air vents – This is usually an indicator of a blockage or unwanted debris in the air system. You might be able to solve the problem by changing the air filter, but if not, it's time for some maintenance.
If the ventilation system in your home isn't correctly filtering out contaminants and debris, there are ways to help. Home Comfort USA offers different filtration systems and services to improve and maintain your air quality. We offer fiberglass or polyester filters and provide duct cleaning services depending on your needs. Poor airflow, unpleasant smells, and large quantities of dust can all be solved with good ventilation and upkeep.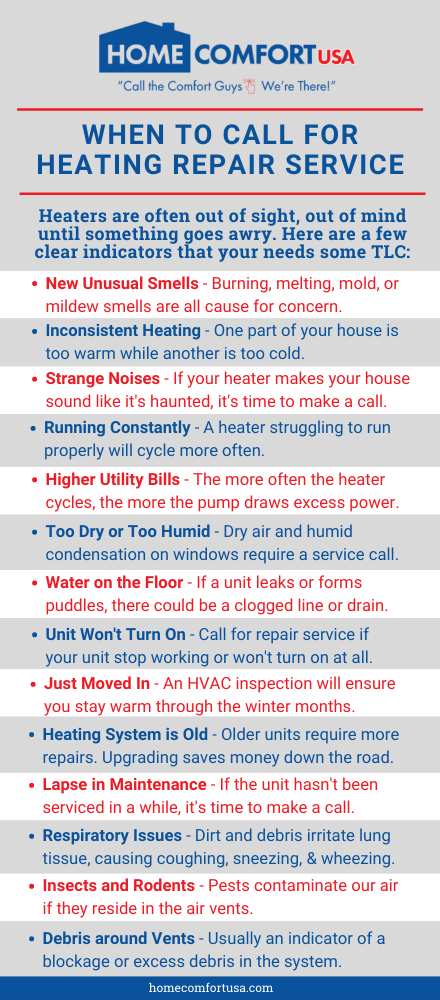 Our technicians share Home Comfort's passion for taking care of our customers. We strive for excellence while building relationships with each of our clients, and the health of you and your family is important to us. Our quality work is how we show our care for every customer. Quality HVAC service can be expensive, so we offer you various options and payment plans.
Our Air Conditioning Service Technicians
The technicians at Home Comfort USA are fully trained in HVAC services. We hire professionals who will go above and beyond to ensure you receive the quality of air you deserve. We are dedicated to providing quality service and even earned 2018's Angie's List Quality of Service award. 
Our company ascribes to the golden rule: Do unto others as we would have them do unto us. Every one of our staff is well-trained in their job and customer service. We pledge polite, respectful behavior that honors every customer. None of our technicians will offer unnecessary recommendations, and we only recommend the necessary items and maintenance for your unit instead of upselling undeeded promotions. Our customers are treated like family with service that proves we care.
Affordable Furnace Service, Repair, and Maintenance
At Home Comfort, we believe that everyone deserves access to the best indoor air quality. Because of this, we keep a rotation of rebates and sales on our services and products. We offer to match or beat the prices of local competition and provide financing options. Visit our promotions page to discover what sales and specials are ongoing now.
Customers receive free ten-minute estimates for services or potential repairs and can contact us to discuss financing for pricier projects. We strive to be a reliable company, treating our customers with integrity and respect. Our promise is 100% satisfaction with our work, or you don't pay. It's our pleasure to help you get the air quality you deserve in your home. 
HVAC Maintenance and Emergency Service
The best way to keep your heater running as long as possible is by scheduling regular maintenance. A well-cared-for unit will continue to heat your home or business for many years to come. A tune-up can include:
Checking filters and carbon monoxide labels

Cleaning burners

Inspecting for wear and tear
These are all integral steps to keeping your heater running efficiently. 
At Home Comfort USA, our priority is to keep your HVAC unit working as long and efficiently as possible. We are a faith-based, family-owned company committed to making a positive impact throughout Southern California. Contact us today if you live in Orange County, Los Angeles, or the Inland Empire. It's our pleasure to provide fast, convenient emergency HVAC service!