In need of heating maintenance service? Call the comfort guys! 
Home Comfort USA is more than a leading HAVC maintenance service. We are the comfort guys and we're there to provide top quality service to homeowners in Southern California.
Our Heating Maintenance Services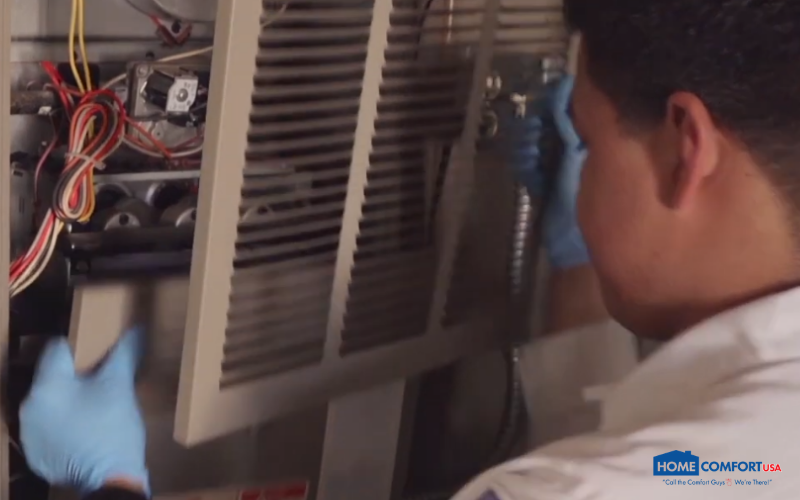 We live and work by the golden rule: Do unto others as we would have them do unto us. 
With 8 years of experience on our side, the team at Home Comfort USA has earned its moniker as "the comfort guys." Not only do we provide clients with emergency services, but we also offer same day service for those who need reliable service when they need it the most. 
Besides being a full-fledged HVAC company, we offer a full line of heating services for residential buildings throughout Southern California, including Anaheim, Orange County, Los Angeles, and Inland Empire. 
Heating Installation.

Ready for a new unit entirely? Home Comfort USA will send out a certified professional to help talk you through the process and provide you with a free estimate. 

Heater Repair.

HVAC repair services are essential to keeping your system up and running. Whether it's emergency

heater repair

or minor work to keep your unit up and running, Home Comfort USA is here to help. 

Tune-Ups.

Noticing something off? A funny smell? An odd sound? It could be time for a

tune-up

. Routine check-ups are essential to not only catching but preventing issues before they become full-blown problems. 

Indoor Air Quality Services.

Your heater does more than keep your living space comfortable. It also helps to improve the overall air quality. A properly running unit can help reduce the amount of dust in your home, enhance overall sleep quality, maintain an ideal humidity level and help you cut down on energy costs.
6 Signs That You're in Need of Heating Maintenance Services
Being in Southern California, heating maintenance services aren't always on the top of your mind. However, as a homeowner, that doesn't mean it shouldn't be a part of your routine. Not sure if you require heating maintenance? Here are 6 common signs we encourage all homeowners to look out for. 
You Haven't Had a Checkup in a While.

If it's been some time since you've last had your home's HVAC system checked out, then you may want to schedule maintenance services. As with any other product, or even yourself, a regular checkup helps you not only maintain your systems but catch any issues early on. This is vital for those looking to avoid costly or emergency repairs. 

Higher Utility Bills.

If you've started noticing a spike in your utility bills, then you'll want to have your unit serviced to ensure that it's not the cause. If you notice that your home is warmer than usual or seeing dips in your home's temperature, schedule heating maintenance services to rule out any potential problems. 

Your Home Isn't Heating Up Efficiently.

When temperatures drop in Southern California, we feel it! If your home is having trouble maintaining a steady, comfortable temperature, your unit may need

servicing. Whether there is a fitting that's become loose or a pump that simply isn't doing its job, small issues can cause massive problems. So, get them checked out ASAP.
You're Noticing A Low Air Flow.

Low airflow can also result in cooler temperatures throughout your home. This is a sign of a blockage in the system or a faulty fan, which leads to weak airflow through your ducts. Air that isn't flowing correctly can lead to cooler temperatures, and make your unit work harder than it has to, leading to many issues, including higher utility bills. 

Noticing an Odd Smell or Noise from Your Unit.

Heating units make some noise when they first start up and even while they run. However, noises that are out of the ordinary are a clear sign that your unit requires maintenance services. Odd noises can include humming, banging, rattling and groaning. Another alarming issue that homeowners need to be aware of is abnormal smells when the unit starts up. Sure, while heating units do have a particular smell to them after the first startup, mold, shorted wires or even melted parts can produce an alarming smell. Should this be the case, you should call Home Comfort USA immediately. 

Your Unit Simply Isn't Starting.

The only thing that is worse than a cold home is a heating unit that simply won't start. Proper heating maintenance services will prevent this by ensuring that your unit is updated and running smoothly. If your unit unexpectedly stops running or won't start, call Home Comfort USA immediately for same-day services and a free estimate on repairs. 
Home Comfort USA Is There When You Need It
When it comes to heating maintenance services, not every company is created equally. Here at Home Comfort USA, we are known for not only providing top quality services to our customers but for treating them with the respect they deserve. 
Owning a home is stressful enough without having to deal with poor services. Whether it's a small fix or a significant heating repair, rest assured that our professional team will treat both you, your family, and your home with the care you deserve. 
Ready to get started with your heating maintenance? Call the Comfort Guys at (888) 462-0089, and we're there! You can also utilize our simple online form today!