Has the heater gotten a checkup lately? Notice any smells or noises that don't seem quite right? Call the comfort specialists ahead of time and stay comfortable this winter by getting that heater into tip-top shape. We offer a full line of heating services for residential buildings in Southern California. 
Schedule your appointment now! 
Reliable Heating Services in Southern California
When we got started in 2013, we set out to be an HVAC company unlike any other, providing value to our customers by improving their quality of life.
Whether in our customer's homes or within our community, we strive to set ourselves apart from the competition. Our customers enjoy: 
Same Day Service
Call the Comfort Guys, We're There! That's not an exaggeration. Whether it's emergency service or just a tight schedule, we're thrilled to provide fast, reliable service exactly when it's needed. 
100% Satisfaction Guaranteed
Get the best service and enjoy total satisfaction… or don't pay! Our technicians will be polite, respectful, and thankful to all our customers every day. We won't be satisfied until we've delivered 100% satisfaction.
Match or Beat Prices
Find something better in the area? Let us know! We'll match or beat the prices of our local competition. We believe in value over profits – people shouldn't have to pay more for that.  
HVAC Expertise
As a full-fledged HVAC company, our technicians are fully trained to provide full HVAC services beyond simple home heating. Take advantage of all maintenance, repair, installation, and more. 
Servicing Southern California
Located in Southern California? So are we! We provide service to Anaheim, Orange County, Los Angeles, the Inland Empire, and more. Service Locator.
Family-Owned & Operated
We've been faith-based, family-owned and operated since day one. It informs the way we see our community and our customers. Work with professionals who care and are truly invested in customer well-being. 
HERO Registered Contractor
Need heat services but in a bind about how to proceed? Home Comfort USA is a registered contractor for Southern California's HERO program, which is designed to help homeowners access easy financing for their HVAC system. 
Certified Professionals
Helping customers achieve the best indoor air quality is our calling. We hire technicians and staff who share our dedication to change the lives of the residents of Southern California. 
What Is Needed
We believe in ethics and integrity, meaning that we'll never offer or recommend anything unnecessary. Our technicians offer expert advice that truly benefits our customers' homes. 
Does the Heater Need Some TLC? Call the Comfort Guys!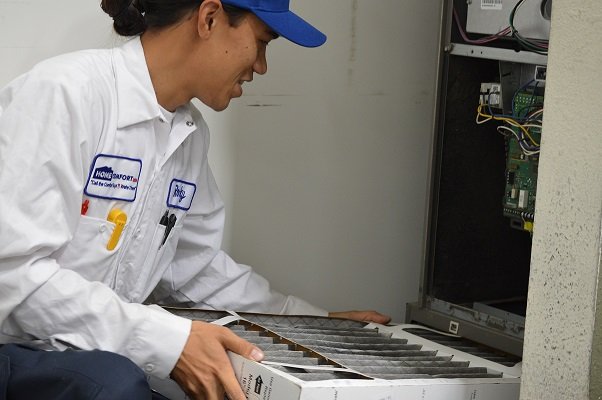 Heaters are like most appliances. We don't often notice them running unless something is wrong. However, in our busy lives, heaters can sometimes run a long time before problems get spotted. That can exacerbate them, transforming what was once a simple service appointment into a costly replacement. Here are some easy-to-miss signs that a heater needs the attention of a technician: 
Higher utility bills than normal.

If the heat has been running and the utility bills have been creeping up, it's a sign that the unit is running more frequently than usual to keep the home at the desired temperature. 
The heating system smells or makes abnormal sounds.

It might need its heat pump or filter inspected, cleaned, or replaced. 
The home is heating unevenly or inefficiently.

Forced air heating is known for its efficiency, but if something isn't operating effectively, the heater's capacity is reduced. 
There's an older unit installed.

Upgrading older units can help save money and reduce repair costs in the long run. 
There's water on the floor.

If there's a puddle around the unit, a drain or line could be clogged. 
It's been a while since it's had a checkup.

All home heating needs occasional maintenance to avoid more serious problems down the road. 

It's a recently purchased home.

Congratulations on the new home! Give us a call and let us help get things off on the most comfortable foot.
We Keep Homes Comfortable with Superior Service
We proudly meet our customers' every HVAC need by providing a range of heating services for residential buildings. Among our many unique offerings include: 
Heating Installation
Need a new system altogether? No problem. Our specialists will recommend the ideal systems for the type or size of the home. We specialize in energy-efficient units that allow our customers to save money on their bills. A modern system also helps with costs by reducing the frequency and degree of maintenance needed over time. 
Tune-Ups
Has it been a while since the heating system has been inspected? Our technicians are thrilled to give it a checkup. Routine tune-ups are critical to catching and preventing trouble before it has time to turn into a costly problem. Our technicians will assess a system for efficiency, safety, functionality, and cleanliness. Learn More. 
Free Estimates
Got a problem but not sure its scope? It can be difficult to gauge the cost or length of time that maintenance or installation will take. We provide free estimates for any service or repair. Plus, we recognize that our customer's time is valuable. To make things easy, we also provide free quotes in under ten minutes.
Rotating Specials
It is our genuine pleasure to make HVAC systems as accessible as possible to all of our customers. We accomplish that by keeping a rotation of specials on all of our services and products. Eyeing something? Check out our current promotions to discover savings or rebates on new systems. 
Air Quality Is Good for Life Quality
Keeping the heating system in working order does more than just heat a home efficiently. It improves the quality of life all around by making the home a place of comfort. Customers who take advantage of our heating services enjoy:  
Energy savings.

On a mission to reduce a home's environmental footprint? So are we. We recommend energy-efficient systems and help our customers use fewer resources to heat their homes. 
Enhanced air quality.

Enjoy a dust-free living environment that isn't too humid or too dry.
Improved safety.

Many house fires are caused by faulty heat pumps that draw too much electricity, causing a short. Our technicians are trained to test for and prevent disasters like this. 
Increased comfort.

A house that's too warm is just as uncomfortable as a house that's too cold. We'll help ensure that the heater does its job exactly as it's needed for maximum comfort. 

Reduced repair costs over time.

A well-cared-for heater is like a well-kept car – it will keep running longer, with fewer costly problems to handle.  
What Our Customers Say
We're the comfort specialists, but don't take our word for it! We've got a reputation for delivering quality service and long-term value to all of our customers in Southern California. Here are just a few of the latest things our customers have to say about us: 
They Love Us On Angie's List, Too
Don't Wait to Get the Best Heating Services in Southern California
With winter just around the corner, don't wait until the last minute to get that heater tuned up, repaired, or installed. Let us support comfort in the home with a well-working, efficient HVAC system. We're thrilled to provide efficient, friendly, same day service all of Southern California. Just Call the Comfort Guys, and We're There!