So, your air conditioning isn't keeping your space cool. During a Southern California heatwave, a malfunctioning AC system makes working from home or in your business extremely uncomfortable. It's time to consider calling an air conditioning repair service.
Before you pick up the phone, there are some details for homeowners to investigate first. It's better to ensure you don't have a bigger electrical problem or something small like a battery or filter change. Even if you need repair service, it's essential to streamline the visit by being fully prepared ahead of time.
Things To Do Before Calling AC Repair Services
When your AC isn't working, there's a shortlist of things to check before paying for HVAC maintenance. Resolving issues on this checklist will save you and your HVAC technician both time and money.
1) Confirm the Power Source
This may seem like an obvious step, but occasionally power goes out in the area, and residents don't realize it. The air conditioning not working becomes the first indicator. It's always best to double-check your power supply before calling for emergency service.
2) Evaluate the Air Filter
An old or full air filter will cause an air conditioning system to perform poorly. Homeowners must change filters during regular tune-ups, or the restricted airflow will eventually lead to breakdowns. Air filters are found easily at a local hardware store or ordered online.
A thermostat with dead or dying batteries will make an excellent cooling system look like it's malfunctioning. Change the batteries and give the unit a couple of hours to see if that helps.
A tripped HVAC breaker still allows power to the rest of the building, making it seem like the air conditioning unit is malfunctioning. If the breaker trips multiple times, it may be more of an electrical problem than an HVAC unit problem.
5) Inspect the Drain Line
Most AC units have a water safety switch to avoid home water damage. Check the pan under the unit for water. The presence of water indicates a possible clogged drain. Empty the pan and flush the drain, and the HVAC system should work properly again. 
HVAC Service Questions to Answer
If you complete the checklist and the AC system still won't work, it's time to call the air conditioner repair service. Keep notes about what you checked so you can ask questions and get to the root of the problem right away. To streamline the process, find the answer to a few simple questions about your air conditioner system before making a service call.
What's the type and brand of your HVAC system?
Knowing this information prepares them for any common problems your unit might have and what parts they may need to order.
What service do you need? Regular maintenance, repair, or complete replacement?
Don't worry; just let the repair service know if you aren't sure.
What do you suspect is the problem?
Have you noticed a specific issue over time? Does the unit make strange noises or struggle to keep a room cooled down?
How soon do you need maintenance services?
Are you and your employees melting in misery in the office? Or are you not home most of the time so that the AC repair services can wait a day or two?
6 Ways to Prepare for AC Service
Once you've scheduled a repair, ask your HVAC contractor about any specific preparation requests they have. Even if you've worked with this HVAC company before, it's essential to check for new recommendations or policies. No matter their answer, there are some things to do to make your appointment go as quickly and efficiently as possible.
1) Move any obstructions in front of or around the air conditioning unit and vents.
Ensuring access points are unblocked means the repair company can spend time doing its job instead of waiting for things to be moved.
2) Remove any weeds or plant growth around an outside HVAC unit.
An overgrown environment won't allow your cooling system to operate as efficiently and makes it difficult to access. To maintain a healthy, efficient cooling system, it's important to periodically trim back any overgrown plants.
3) Clear your schedule for the maintenance day.
It's nice to know when a professional HVAC technician will arrive, but that isn't always possible. The service call before yours might be longer or shorter than expected. You can request a warning call for when they're en route to your home or business.
4) Have air conditioning service records available.
It helps to know what other problems have occurred and what work was performed to address them. The goal is to streamline the visit as much as possible.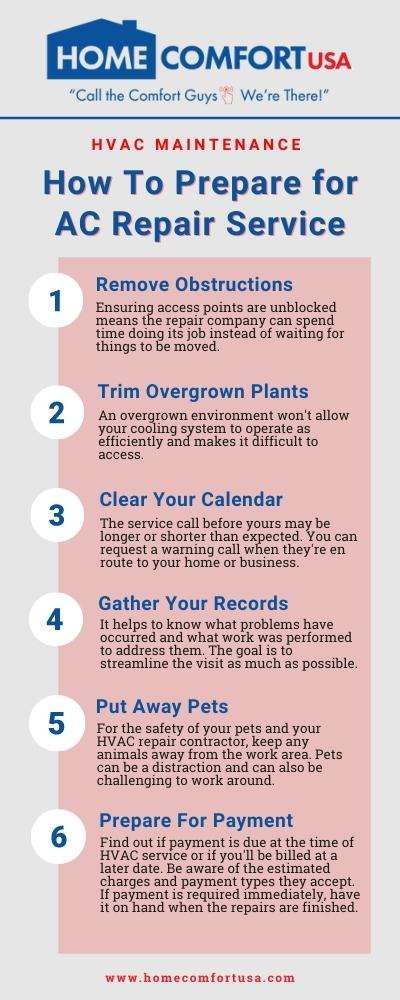 5) Keep tabs on your animals.
For the safety of your pets and your HVAC repair contractor, keep any animals away from the work area. Pets can be a distraction and can also be challenging to work around. The HVAC technician can focus better if they don't have to be wary of a nervous dog or an overly-friendly cat. 
6) Be aware of fee requirements and payment options.
Find out if payment is due at the time of HVAC service or if you'll be billed at a later date. Be aware of the estimated charges and payment types they accept. Do they take cash, check, card, or a combination of the three? Is this visit part of your home or business insurance or an out-of-pocket expense? If the payment is required right away, have it on hand and ready for when the repairs are finished. 
COVID Protocols for HVAC Services
Disinfect regularly touched surfaces. It's unnecessary to bleach every hidden corner of your home but consider wiping down high traffic areas. What surfaces will they most likely be coming in contact with? Door knobs, breaker boxes, thermostats, and other areas related to the AC unit could use a quick clean-up. 

Communicate clearly about masks. It's essential to know your repairman's comfort level. Ask his preference regarding face coverings or social distancing. Be sure to communicate your preferences as well. It's perfectly reasonable to ask anyone entering your home or business to follow your policies. 

After the service, wipe down doorknobs and light switches if you want to. Err on the side of caution without giving into paranoia. Hygiene is essential for your health, but it's also important not to overstress yourself.
Scheduling Regular AC Repair Services
Avoid needing emergency repair services by scheduling a regular maintenance plan for your AC unit. Air conditioning repair companies provide maintenance once or twice a year, depending on the unit type. Routine maintenance keeps the AC running smoothly, extends its lifespan, and provides you with a better idea of when it will need repair or replacement.
Regular maintenance ensures air filters are clean, the refrigerant pressure is checked, and the motor is lubricated. Taking care of these details will elongate the life of your unit and help avoid expensive repairs. A well-cared-for AC unit will continue to cool you through the summer heat for many years to come. At Home Comfort USA, our priority is keeping your AC working as long and efficiently as possible. Contact us today to receive fast, convenient same-day HVAC service!