Let's control the air we breathe.
When we do our weekend chores, have we ever wondered how much of the dust we wipe from our shelves is entering our lungs on a daily basis? What other toxic chemicals might be floating in the air?
Contaminants like dust mites and volatile organic compounds are nothing to mess around with, which is why Home Comfort USA provides complete indoor air quality services to keep families healthy.
Top Signs You Need Your Air Quality Assessed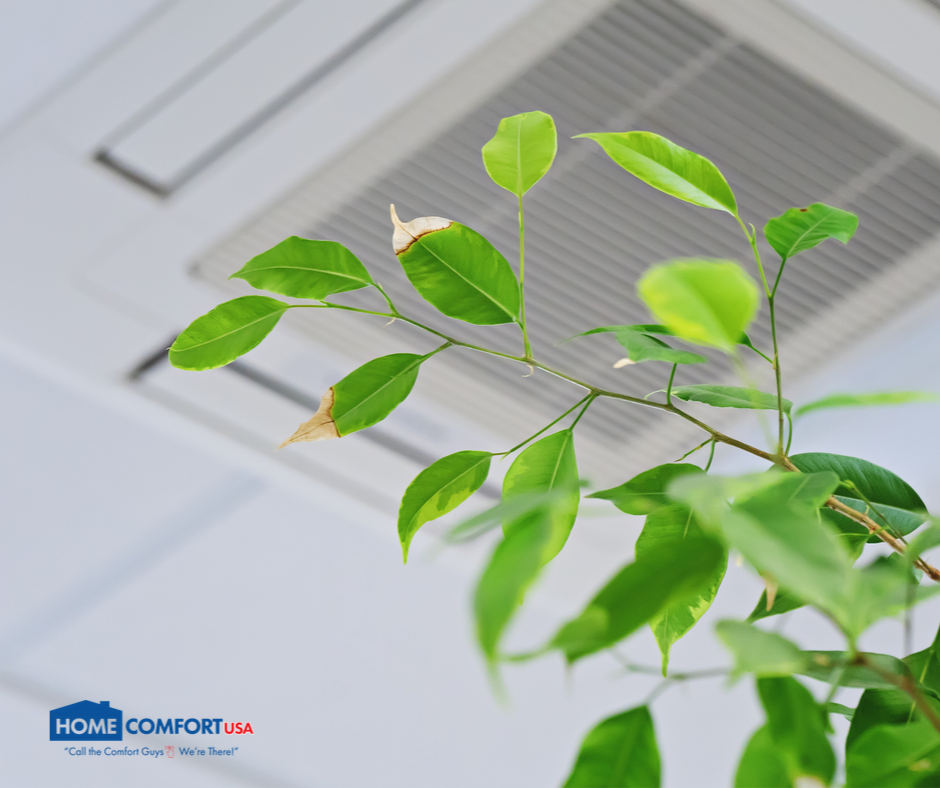 Let's make ourselves aware of the air we breathe.
Many air quality issues can be linked to your HVAC's ductwork and filters. However, there are many other possibilities that could be causing the air in your home to be a danger to you and your family's health. To determine if your air quality is needing some TLC, look for these five signs:
Follow the Money
How has your energy bill been fairing the last couple of months? Have there been significant increases since last year or the year before? Unless you've been experiencing harsher than normal weather patterns, a high energy bill can be your first sign of an inefficient HVAC system—and, poor air quality.
Unwelcome Guests
When we see insects, cockroaches, or mice, our homes feel like a garbage dump. We immediately think there must be a food source attracting these critters. Although that is a strong possibility, it's more important that we determine where their secret hideout is. If they are calling our air ducts home, think about the terrible waste our air is picking up along the way.
How's Your Breathing?
If any of us have developed unexplained respiratory problems over the last few months, we need to have our air quality assessed. Dirt and debris accumulate over time, whether we want it to or not. If wheezing and sneezing have become a regular part of our lives indoors, we should have our ductwork checked out.
Look Up, Down, and All-Around
It's crucial to examine all of our air vents. Whether on the floor or near the ceiling, if we have dirt and dust collecting around our air source, we can bet good money we have blockages in our duct system and unwanted debris entering our home's air. Be sure to check air filters as well—a highly important maintenance check all homeowners should put on our calendars.
Home Comfort USA's Unmatched Indoor Air Quality Services 
Now that we know the signs of poor indoor air quality, let's examine how we can be proactive and prevent those five issues from costing us thousands of dollars.
Air Filtration Services
Just like a doctor can become a doctor with C-average grades, some homebuilders aren't exactly the cream of the crop. Houses are massive projects where mistakes can happen. If we have poorly constructed ventilation systems that aren't taking care of the pollutants in our homes, Home Comfort USA's air filtration services are here to the rescue.
Of course, not all air filtration systems are built to manage the same problems. Let's take a look at the air filtration systems we can consider for our homes. As an aside, never use washable air filters. Cheaper is not better in this case:
Fiberglass Air Filters—for a home that already has clean air. Fiberglass filters don't clean air that is already polluted, but if we are on top things and aren't seeing major signs of pollution, these can be a cheap and effective option.
Polyester and Pleated Air Filters—our new best friend. For homes that are experiencing dust mites that can cause severe allergies, these filters can be our savior. These filters can remove up to 45% of the existing pollutants in your home.
Duct Cleaning Services
If we live in our homes long enough, the things we never think about can quickly become our biggest enemies. Our air ducts are one of those surprise frenemies. Duct cleaning services and inspections are good for two reasons, but not so much for many others.
There is no evidence that says having a shiny, polished air duct will improve the air quality in your home. But, they are worth inspecting if we are experiencing the following problems in our homes:
Poor airflow
An unpleasant smell emanating from our air vents
Uncommon amounts of dust and debris
Each of the above signs can be caused by the following issues with our air ducts:
Unwanted (to say the least) vermin have set up their headquarters in the air ducts
Uncommonly high amounts of dust and debris have clogged the system
The Time is Now to Have Your Indoor Air Quality Checked
At Home Comfort USA, we want to be your one-stop provider for all things air quality-related. Whether it's installing a new HVAC unit, performing repairs, maintaining your unit, or assessing the overall air quality in your home, we can do it all. Let's all bring cleaner air so we can focus on other aspects of our busy lives.
When you choose Home Comfort USA, you choose a business that values your individual needs and the health and comfort of your family. We serve clients in Anaheim, Los Angeles, and all of Southern California. Our founder and CEO, Ken Starr, created Home Comfort USA with those values in mind. Give us a call today and you will be in the best hands possible.