The heater is out, and you don't want to be cold for long! It's time to hire a heating repair service promptly. You want to hire a reputable service, but every company claims to be the best. How can you tell if they will get the job done or make it worse? Several factors indicate if an HVAC company is worth hiring. Asking questions and doing research pays off by helping you find a quality repair service for your heating and air conditioning needs.
Researching a Heat Repair Company
If you're a homeowner looking for an HVAC repair company, it isn't always wise to search "heater repair near me" and hire the first company to pop up. Begin by looking at the company's website. Details available on their site will give you a clearer picture of their business. 
Services Listed: Do they offer the specific HVAC services you need? 

Reviews: Read a balance of both good and bad online reviews. Every HVAC contractor gets the occasional disgruntled customer, but consistent bad reviews indicate they aren't for you. 

Age of the Business: Any business that is five years or older is usually safe, but the older, the better. Look for a company that has stood the test of time and is well-respected in your community. 

Awards: An HVAC company that takes pride in a job well done will display any honors awarded to them on their website. 

Referrals: Ask your friends and family for testimonials and referrals to HVAC companies they've had a positive experience with.

A heating repair company puts its best foot forward on its own website. Take time to look at other places online as well. Businesses, both good and bad, will show up elsewhere on the internet. A few sites to look at are:

Facebook: Customer interactions and company attitude are usually easy to gauge on social media. 

Google Business: The reviews here aren't curated like they are on the business website and can be enlightening. 

Yelp and Angie's List: These are great sites to find customer reviews and ratings. 

Better Business Bureau: Not just any business can be accredited with the BBB. You can't buy an A+ rating; a company has to earn it.
What to Ask a Heating Repair Service
Once you have found a business that can withstand a bit of research, it's time to call and ask some questions. A trustworthy HVAC technician should be able to answer your questions without issue. Find a company that responds quickly and with confidence.
Licensing: Every state has different licensing requirements, so be familiar with them before asking. Is the business licensed? Is each HVAC technician licensed? Allowing an unlicensed company to work on your HVAC system might void the manufacturer's warranty. 

Insurance: A good company ensures both you and the company are well protected if something happens. Ask if they have worker's compensation, general liability insurance, and general contractor's insurance. It's not too much to ask them to show proof of insurance.

Training: A team with up-to-date training won't struggle to pinpoint a problem with your heater. Consider asking if they completed any apprenticeships before becoming a full-blown technician. Ask about any other certifications and qualifications as well. A well-trained team will give you peace of mind that they fix the problem, not add to it. 

Cost: Do they have an estimate of what most furnace repairs cost? Most companies can't give you an accurate price until they look at the problem, but they usually offer basic estimates. It is wise to inquire about payment plans and money-back guarantees as well. 

Warranties: Do they offer warranties on labor and materials used? Can you get the warranties in writing for your records?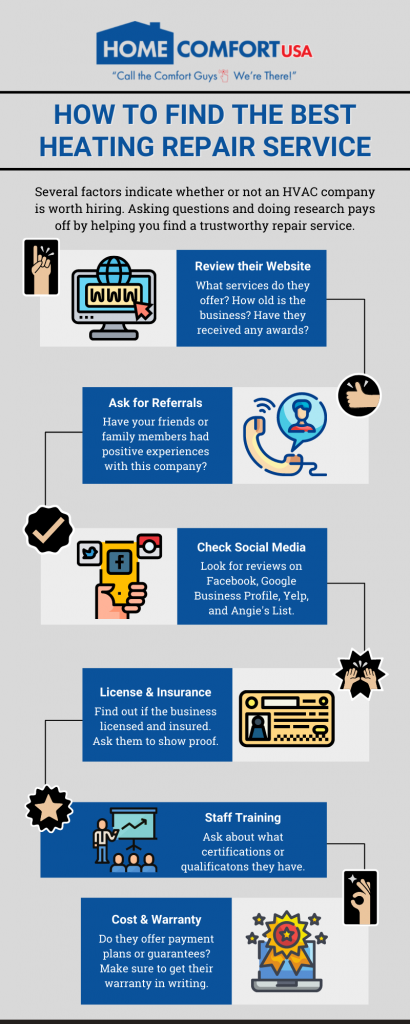 This may seem like a lot to ask, but a heating system is a significant appliance—it can be dangerous if handled poorly. A reputable air conditioning contractor will take time to ensure you know they're well trained and following all legal requirements
Schedule HVAC Maintenance
The best way to keep your heating system or air conditioner running as long as possible is by scheduling regular furnace maintenance services. A well-cared-for unit will continue to heat your home or business for many years to come. At Home Comfort USA, our priority is keeping your HVAC unit working as long and efficiently as possible. Contact us today to receive fast, convenient same-day service! And don't forget to ask about our special offers to get the best deal possible.