HVAC installation service can be a significant home renovation project. When installing a new HVAC system, you're setting yourself up for years of comfort at home. Important decisions must be made whether you're installing a new AC unit, heating system, or ventilation. It's best to be well-informed as you enter into this process.
While you don't need to become an HVAC expert, there are certain key factors to be aware of. Your HVAC technician can provide guidance, but you should also know what to look for. Here are some of the most important things to know before your HVAC installation service.
Things to Know Before HVAC Installation
Central Air or Ductless AC Units?
Regarding air conditioning, the two main categories for AC units are central air conditioning and ductless mini-splits. Central air uses a single main HVAC unit and ductwork to circulate air through your home. Split ductless units are installed separately in different rooms throughout the house. Each type of unit has pros and cons and scenarios where each is more effective than the other.
For instance, large homes typically rely on a central heating and cooling system. Central air is much more effective at circulating air consistently through larger spaces.
Smaller homes and apartment buildings, on the other hand, often use ductless mini-splits. Ductless units allow for more customized air distribution across different rooms in the house. And for smaller spaces, central AC units are often oversized and less energy efficient.
It's important to review your options and whether central or ductless air is right for you. If you're unsure, your HVAC installation professional can answer any questions.
Do You Need New Ductwork?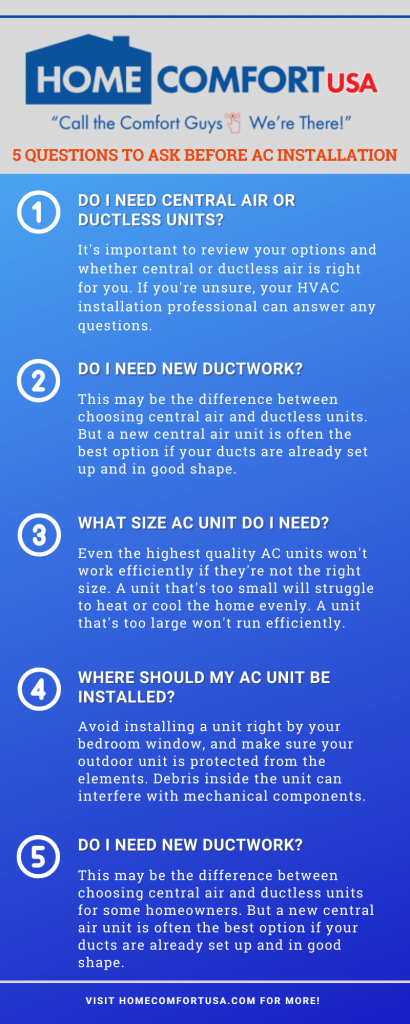 Are you wondering whether you'll need to install ductwork for a new central air system? This issue can be a significant complication if your home has no existing framework for ductwork. Installing vents and ductwork where there was none can take time and become quite costly.
Replacing old ductwork can also be a hassle but isn't as challenging. Make sure to ask your HVAC installer about this before installation. This may be the difference between choosing central air and ductless units for some homeowners. But a new central air unit is often the best option if your ducts are already set up and in good shape.
What Size Unit Do You Need?
The size of the unit is often one of the most overlooked factors in determining indoor air quality. Even the highest quality AC units won't work efficiently if they're not the right size for the home.
A unit that's too small, for instance, will struggle to heat or cool the home evenly. Certain areas will strive to get air from your AC unit, leaving you feeling frustrated. Not only will the atmosphere not be consistently comfortable, but you'll be paying for a unit that doesn't function properly.
On the other hand, a unit that's too large will struggle to run efficiently. Oversized units often misread the temperature in your home and shut off before the cycle is complete. This will leave you with inflated energy bills for a home that's not being cooled adequately.
To avoid issues like this, be sure you're choosing a unit that's the right size for your home. You should do independent research and check with your HVAC service company beforehand. A reputable company can offer guidance and feedback and help you choose the perfect unit for your space.
Where Is the Best Place to Install Your Unit?
Air conditioning units tend to create noise, and most central heating and air conditioning systems are connected to a main outdoor unit near the home. Choosing the right location for your unit can be tricky, with several factors to consider.
First, ensure that any noise from the AC unit won't be disruptive. Avoid installing a unit right by your bedroom window, for example. Air conditioning is essential to your comfort on hot summer nights. But it's not ideal to have your sleep disturbed by loud noises every time your AC runs a new cooling cycle.
Second, make sure your outdoor unit is protected from the elements. Direct and constant exposure to sunlight can cause problems with your unit's long-term performance. You also want to ensure your unit isn't exposed to dirt, debris, and other particles.
If any debris gets inside the unit, this can interfere with mechanical components. A compromised AC unit can lead to efficiency problems or cause mechanical malfunctions. You want your outdoor units to be in a safe spot where they can connect easily to your home's duct system.
Is Your Home Properly Insulated?
Proper insulation for your home should never be overlooked during an HVAC installation service. While insulation and HVAC installation may seem separate, they are pieces of the HVAC puzzle. Your home must be properly insulated for your heating system or air conditioner to function at its best.
If your home is leaking or letting in air from outside, your HVAC system must work harder. Additional running time requires more energy, which drives up your bills, and wears your system down. Before installing a new HVAC system, ensure your windows, walls, and attic are up-to-date and adequately insulated.
Know Some Basic HVAC Maintenance
Your AC services technician is the expert who can handle the most significant problems that pop up. But your life will be much easier if you understand the basics of HVAC maintenance. Regular maintenance tips like consistently replacing air filters and keeping the thermostat at a reasonable temperature are always important.
For more detailed air conditioning repair tips, ask your HVAC installer about your system's maintenance before or during installation. They're certified experts, after all, and know everything there is to know about each unit they install. It would be a wasted opportunity not to ask for some HVAC maintenance tips from them!
Air Conditioning Installation Services
Lastly, do your homework when choosing a company for your heating or air conditioner installation service. The best air conditioning unit in the world will be useless if it's not installed correctly. And there are many other benefits to choosing a reliable installer as well.
As mentioned above, a knowledgeable professional will be able to provide guidance and answer any questions you might have. Most reliable installers will also offer a courtesy follow-up visit to ensure the system works correctly after installation. And, of course, choosing a trustworthy installer means you'll always get the best deal.
Southern California residents know the importance of a top-notch home air conditioning system. And there's a reason many of these residents choose Home Comfort USA for their air conditioner installation service. Home Comfort, located in Anaheim, CA, is dedicated to providing the best service we can to help our communities live in comfort. Whether you need AC installation, maintenance, or repairs, don't hesitate to contact us this summer!