It's wildfire season again in California, and we're dealing with quite a terrible one this year. 
If the wildfires themselves weren't stressful enough, you also must mitigate the dangers of intense wildfire smoke. 
Check your local air quality report before anything else. 
If your community's air is in the hazardous range and you suffer from preexisting conditions, consider staying with a friend or relative somewhere with cleaner air until the smoke subsides. 
Otherwise, your AC unit offers plenty of protection against wildfire smoke. However, regular AC maintenance is key.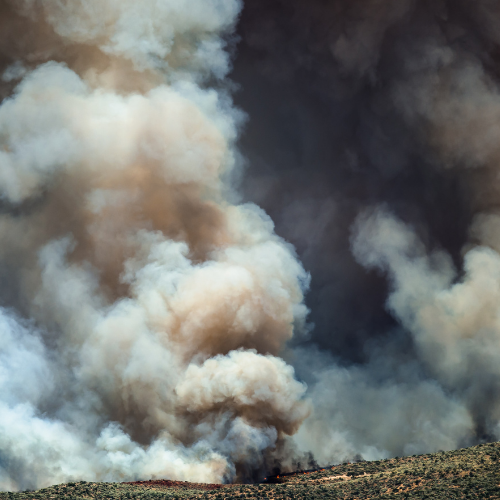 How Does Wildfire Smoke Impact Indoor Air Quality? 
Typically, indoor air is more polluted than what's outside. That's not the case when wildfires cast huge clouds of smoke. 
Even if it doesn't look smoky outside, that doesn't mean the air is clean enough to breathe. 
Wildfire smoke consists of toxic gas and tiny particles. According to the EPA, the biggest threat comes from the microscopic particles floating in the air. 
Remember that homes and infrastructure are built with plastics, metals, and new high-efficiency materials. When these materials burn in wildfires, they throw dangerous chemicals into the air. 
These particles and gases make their way into your home's air through windows, doors, and vents. 
As you breathe air laced with ash, debris, and toxins, it enters your lungs and heart. People with preexisting heart and lung conditions might notice their symptoms worsening. 
Even a completely healthy person could experience painful symptoms if there's enough smoke in the air. You might notice problems like: 
Trouble breathing 
Coughing 
Scratchy or irritated throat 
Wheezing 
Shortness of breath 
Chest pain 
Rapid heartbeat 
Feeling tired 
Asthma attacks 
Elders, pregnant women, children, and pets are, particularly at risk.
How to Keep Your Indoor Air Clean with AC Maintenance 
Fortunately, your air conditioner can help keep your home's air clean. Basic AC maintenance and care can ensure that your indoor air quality stays safe when it's smoky outside. 
Resist the urge to turn off your unit when it looks like smoke has passed. Cleaning up outside can stir up more ash and dust from the fires after it's settled. 
Use the Right HVAC Filter and Change It Regularly 
Fiberglass filters are the cheapest kind and suitable in a home with healthy air. During wildfire season, however, you need something stronger. 
Your HVAC filter is your main line of defense between your lungs and toxic air. 
We recommend a high-efficiency filter with a MERV rating of 13 or higher. Not every system can support a high-efficiency filter, so give us a call, and we'd be happy to help. 
Polyester and pleated filters can also remove up to 45% of airborne pollutants. 
With thick smoke outside, you'll also have to change your filter more often. Check it after a week to see how it's holding up. You might need to change it twice a month if the smoke's bad enough. 
Schedule a Tune-Up for Routine AC Maintenance 
You need your system to run efficiently and smoothly during the wildfire season. 
A 32-point tune-up and cleaning ensures everything's running in top shape before an emergency happens. 
The professionals at Home Comfort USA will: 
Clear any debris from your unit 

Clean your evaporator coils 

Replace any malfunctioning or faulty parts before they break 

Top off your refrigerant 

Check for any leaks 

Inspect potential electrical issues 
Avoid Running the Bathroom Fan and Keep Windows Closed 
Bathroom fans usually pull fresh air in from outdoors. During wildfire season, however, outdoor air is anything but fresh. Avoid using these built-in fans (or window fans) and keep windows closed. 
Close the Fresh Air Intake 
Most AC units are already designed to recirculate your interior air, just like the button on your car's dashboard. Meanwhile, other units pull fresh air inside. If your unit uses outdoor air, you should be able to close the fresh air intake and switch to recirculation. 
If you're not sure about your unit, don't hesitate to give us a call.
Test Your Indoor Air Quality 
Pollutants lurk in your air. You can't see them, but they're there. 
Assessing your indoor air quality can help you identify any leaks where pollution from wildfire smoke is creeping inside. 
Old ductwork, window seals, and drafty doorways are all perfect places for toxic particles to creep inside. 
Clean Your Ductwork 
Have you ever looked inside your vents? The amount of dust in your ductwork might surprise you. 
Over the years, your ductwork collects all kinds of dust, debris, pollutants, insects, bacteria, and even mold. 
You can keep your indoor air quality healthy by cleaning your ductwork regularly. Clean ductwork will also take some stress off your AC unit, and you won't have to change your filter as often. 
Avoid Activities That Add More Pollutants to Your Indoor Air 
You might not realize plenty of everyday activities can surge pollution levels inside your home. Even simple things like applying makeup and peeling an orange can release certain toxic gases in tiny amounts. 
To prolong the life of your air filter and keep your air clean, try to avoid: 
Burning candles 

Using heavy-duty cleaning products 

Vacuuming or dusting 

Cooking 

Smoking 
Make Sure Your Thermostat is Set to "On" Rather than "Auto" 
During normal times, you'd want to keep your AC set to "auto." The auto setting keeps your energy consumption and electric bills down. 
The California wildfires are not normal times. 
When it's smoky outside, you want your AC to run continuously. This ensures your indoor air is constantly running through the high-quality filter. 
Make Sure You're Running an Efficient AC Unit for Your Home 
Every home has different HVAC needs. A unit too small for your home won't cool or filter air properly. Meanwhile, an air conditioner too large could blow fuses and skyrocket your energy bill. 
Call our experts at Home Comfort USA for an honest, educated opinion. We'll never try to sell you anything you don't need. We know AC maintenance is costly enough as is. We want to see you save money.
Call the Professionals at Home Comfort USA 
Home Comfort USA is your one-stop-shop for all things AC maintenance. We offer a convenient, friendly, and fast same-day service. In need of a new AC unit fitted perfectly for your home? Maybe it's time for a tune-up? Or perhaps your ductwork could use a cleaning? We'll be there with a smile! 
Find out why we have an A+ rating with the BBB. Schedule a call with Home Comfort USA now!