Did you know that keeping your air conditioner's outside unit out of direct sunlight increases its efficiency by as much as 10%? If the unit is in the hot sun all day, the AC unit will be forced to strain. You'll also notice a rise in your energy bill.
When landscaping your yard around an AC system, there's more to think about than white picket fences and the perfect lawn. Landscaping is an art that takes a lot of planning and thought. If you're ready to start your landscaping project, this article can help.
There are many ways to design your yard to protect your outdoor ac unit while hiding it from plain sight. Keep reading if you're ready to start your DIY project. 
5 Ways to Landscape Around an Outdoor AC Unit
Installing plants is an excellent option if you're looking for ways to camouflage your outside air conditioner unit. Plants provide shade for your condenser unit and shield against heat from your home, making it more efficient. However, the plants or shrubs mustn't block air flow.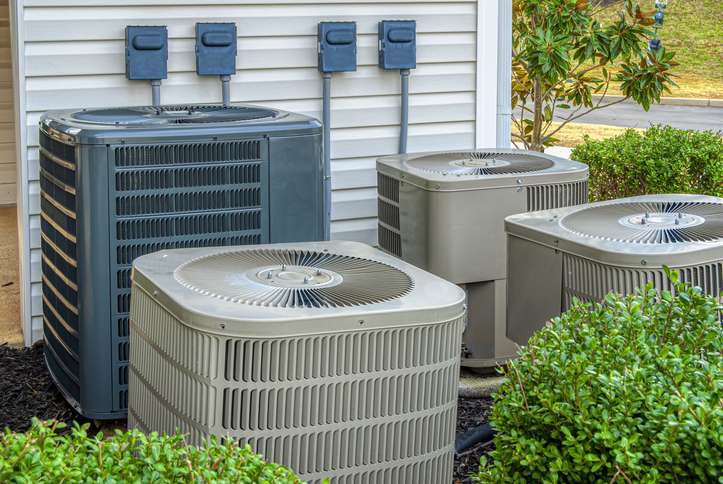 Any blockage will make your HVAC system less efficient and more susceptible to damage. Trees that drop their foiliage in the autumn or winter seasons could cause issues, too. 
Your AC manual should tell you how far away plants should be; usually, two to three feet is recommended. Also, keep in mind there should be enough room for a repairman to access it.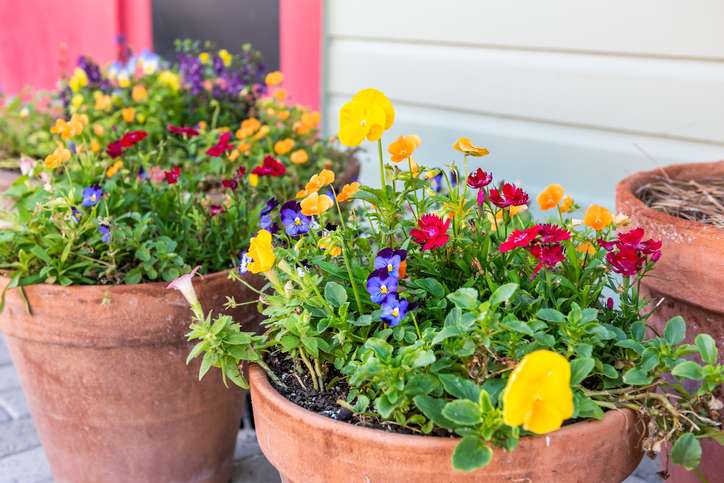 If you want plants around your AC unit with little maintenance, consider using potted plants. You can place tall pots all around your outdoor unit.
Potted plants are generally lower maintenance than greenery planted in the ground. If you decide later on you want to change your yard design, potted plants are easily moved. 
Remember, potted plants may require additional water if you live in a warmer climate.
Are you curious about how to hide an air conditioner unit without using plants? Consider using lattice screens to hide your air conditioner outside the unit. Lattice requires little to no maintenance, and it's easy to install. 
Installing a lattice box means you don't have any plants to trim around the AC unit, and it's more visibly appealing than an exposed condenser. Remember to choose a lattice box that doesn't have a lid so doesn't constrict air flow.
Trellises require a bit more maintenance than lattice, but they're great for AC unit protection. Arbors and trellises also allow you the freedom to decorate how you please. Vines climbing up a framework will provide plenty of shade, too.
You can use a combination of vines, ornaments, or even outdoor lights to conceal a trellis. Even though trellises are common planting alternatives, they must be placed safely away from the unit.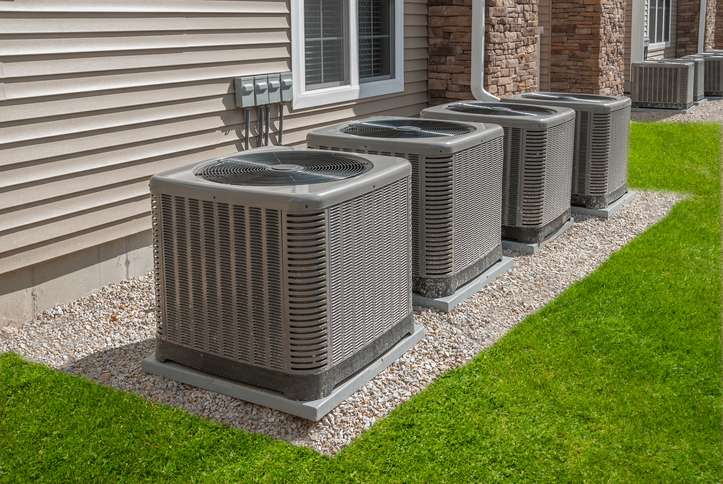 5) Rocks, Gravel, and Pavers
If you don't want plants near your AC units, using rocks, gravel, pavers, or a combination of all three is a great alternative. There are many types of stones and gravel to choose from, so you'll be able to find the best size and texture for your lawn.
Landscaping materials have the added benefit of draining excess water away from your air conditioner. Pavers are a terrific option if you don't want to deal with weeds or plant overgrowth.
Should You Cover Outdoor Air Conditioning Units?
The answer to this common HVAC question is not as straightforward as it may seem. There are a lot of factors that come into play when trying to determine whether or not you need an air conditioner cover. In general, condensers are built to withstand the outdoor environment and don't need an AC cover. In fact, covering an air conditioner can lead to unwanted issues with mold and rust.
If you have an older unit that requires more maintenance than newer models, it may be best to cover it. This will help prevent dust and other foreign particles from building up on the coils, leading to increased wear and tear. If the climate near your home includes a lot of snow or rain, then covering your unit might be worth considering because this will help keep it dry and prevent corrosion on the metal parts.
If you live in an area with compromised air quality, AC covers might be a good idea because they help filter out some dirt, pollen, and other allergens. Lastly, if you have a unit outside near your property and are worried about theft or vandalism, then covering it up would be worth considering.
Let's Discuss Your Landscape Options!
Keeping your air conditioner outside unit protected and maintained can feel like a lot of work. As you can see, several creative ways exist to hide your AC unit and protect it simultaneously.
Take your time deciding what types of landscaping elements you like and what will be best for your yard. Plants and trees may be the right choice if you have time to maintain your landscape. If you want something requiring less maintenance, you've got a plethora of options easily obtained at your local store.
For professional assistance with concealing your home's air conditioning system, Click here—our team is ready to help!